Maternity support belt (ms96)


Back is 6" wide with a pocket for a hot/cold insert; 2 additional pulls for better adjustment. Size is based on circumference midway between hips and waist. S (28"-33"); M (33"-38"); L (38"-41"); XL (41"-46"); XXL (46"-51").


---

postpartum/post-surgical abdominal binder


Model: AB-309

Constructed with panel elastic and soft cotton type lining for patient comfort. Universal style, flannel lined panel elastic support with contact closure. Multi-panel design helps prevent panel rolling. Ideal for providing compression and support for post-natal or post-abdominal surgery, abdominal strains and weakness. Available sizes: S (Up to 34"), M (34.5" - 38"), L (38.5" - 46"), XL (46.5" - 55"), 2XL (55.5" - 64")

---
v2 (perineal) supporter


The V2 Supporter™ offers clinically proven compression therapy for vulvar varicosities. Vulvar varicosities can occur during pregnancy for several reasons. Increased weight of the enlarged uterus sometimes creates pressure on veins in the pelvic area, interfering with the flow of blood returning from the legs. The veins can become distended and "pop out" as vulvar varicosities. Wearing the V2 supporter™ before rising in the morning helps prevent excessive swelling of the vulvar veins. The V2 Supporter™ is doctor recommended, and adjusts for maximum support. It is safe, effective, convenient, soft, and machine washable (line dry). Size is based on pre-pregnancy pant size: P (0-5), S (6-12), M (13-18), L (19-28).


---

hernia guard


The low profile hernia guard provides gradual pressure for inguinal hernias.The double hernia guard is for umbilical hernias.Size is based on waist in inches.


---

quick-fit wrist splint


Cool, soft felt/brush nylon construction with a single one-pull design fits on a wide range of wrist sizes. Dorsal stay within adjustable stay pod can be moved proximal or distal for desired controlled range of motion. Secondary dorsal stay may be removed to accommodate rehabilitation needs. Contoured palmar stay may be adjusted for specific patient needs. Brace is designed to fit below palmar crease for full finger dexterity. Ideal for sprains, strains and Carpal Tunnel Syndrome.

---

Hip brace / s.i. belt


The Hip Brace™ provides compression support to the pelvic cradle and sacroiliac (S.I. Joints). It's great for hip pain and instability and is used to reduce post operative swelling following tummy tucks, abdominoplasty, Pfannenstiel incisions and hysterectomies. Size is based on hip measurement in inches: P (24"-32"), S (33"-40"), M (40"-48"), L (48"-56").


---
Maternity pantyhose, 18-30 mmhg (h340)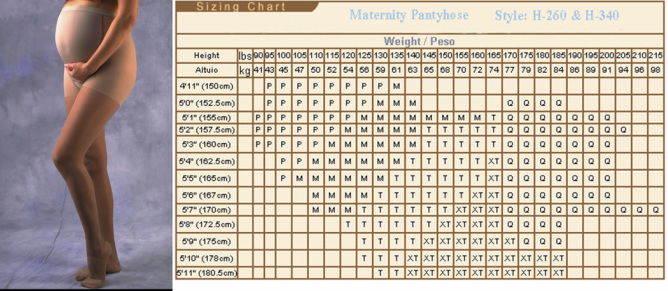 The special elastic pouch easily expands to accommodate size changes during pregnancy to help prevent varicose veins, reduce fatigue, aching, and swelling of the legs. Graduated compression; the sheer material is elegant, comfortable and long-lasting. Size based on height and pre-pregnancy weight.

---
Graduated compression thigh/knee highs, 20-30 mmhg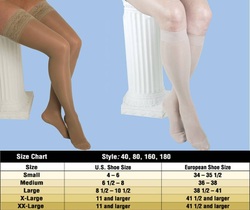 Product Features and Benefits:
These Graduated Compression Stockings provide 20-30 mmHg compression and have a lace top with three bands of silicone to secure them in place.
Recommended for the treatment of varicose veins, other venous insufficiencies, and blood circulation problems.
Offers the support your customers need - sheer, elegant, comfortable - designed for the fashion-conscious individual who feels the physical pressures of an active lifestyle.
Provides firmer support at the foot and ankle, where it's needed most, and compression gradually decreases upward along the leg to the knee and thigh.
This unique construction acts as a second heart - increasing blood circulation and preventing general body fatigue.
They are an investment in good health and last much longer than regular hosiery.
---